Service and additional offers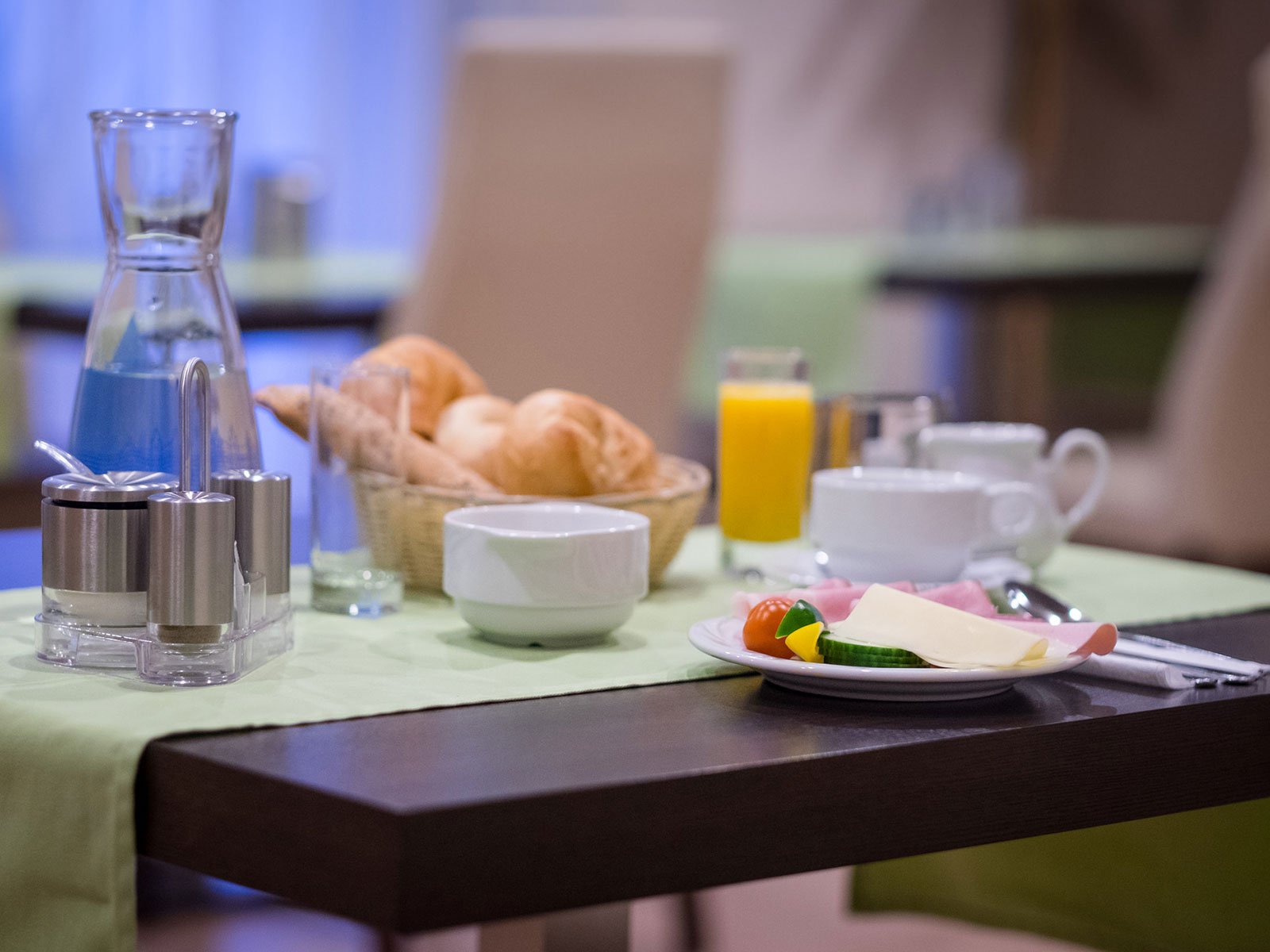 Rich breakfast buffet (included in the room rate)
Irresistible aroma of fresh coffee and warm pastries – what a great way to start into the day!
Every day from 7:00 a.m. to 10:00 a.m., on Saturdays, Sundays and public holidays until 11:00 a.m., breakfast chef and master of the house Pascal Mahal serves you delicious Viennese coffee and he has a rich breakfast buffet ready for you: Fresh seasonal fruit and vegetables, cheese, sausage, muesli, cornflakes, yoghurt, eggs, orange and multivitamin juice, fresh pastries and cakes, toast, dark bread, spreads and jams, various teas and cocoa as well as seasonal homemade delicacies – here you will find everything and more for your favourite breakfast!
Regular guest service with price advantage
You want to come back to our hotel? Then you will love our perks for regular guests!
Easy reservation
Your reservation request will be confirmed immediately upon availability. A deposit or credit card number is not required. Your personal room request will be considered according to availability.
Quick check-in
You do not need to present your passport or ID card. Your registration will be printed out by us in advance. You will receive your key card immediately.
Cheaper parking
Our garage parking spaces are about 150 m away in an around the clock guarded garage. As a regular guest you get € 5,- discount on the regular price.
Free WiFi in all rooms and apartments
ln all our rooms and apartments you can surf the Internet free of charge and without hassle. You can enjoy a fast and stable connection.
Bicycle parking
There is space for your bike in our under-cover courtyard.
Garage spaces and day parking cards
If you arrive by car, you can rent one of our garage spaces for € 15 per night or park on the street. The garage is about 150 m away in an around-the-clock guarded garage.
If you want to park on the street, please note that our district is a short-stay parking zone and there is a charge for parking from 9:00 to 22:00. Therefore, we have daily parking tickets for € 4.10 in stock for our guests at the reception (a € 50 deposit is applicable and must be paid in cash). However, these are only required on weekdays. Parking is free on Saturdays, Sundays, and public holidays.
Alternatively, we also recommend the underground car park Museumsquartier – this is about 5 minutes' walk from us.
Late check-in, check-out, free luggage storage
Our check-in times are from 14:00 to 22:00. For late check-in after 22:00 you will receive a code for a key safe.
If you arrive early and your room is not yet ready for check-in, or if you leave after the check-out time at 11:00, you can leave your luggage at our reception free of charge.
Your key card also opens the front gate at night, so you can come and go regardless of reception times.
Children
Children up to 7 years stay with us free of charge. Ask for baby cot and baby chair!
Dogs
Dogs of all ages stay with us free of charge!
Electric kettle, iron & ironing board
If you wish, you can borrow an iron, ironing board and kettle free of charge at our reception.